home > mcvey hardware > culver city
It was Ruth who instigated the store, for Roy who'd always wanted his own, and for her sons, getting out of the service and college, starting their families. (There are four children: Victor in 1923, Lois in 1926, John Steven in 1929, and Phil in 1936.) Victor was unhappy as a new salesman for now-defunct Union Wholesale Hardware. (One of its transmogrified warehouses would later host L.A.'s Temporary Contemporary. Jenny Holzer on the exterior wall.) Steve worked for Zellerbach Paper.
A store lease became available in the mid-50s. The family bought the business, out on Washington Blvd in Culver City, beyond MGM. The store was called Miner's Hardware. (The sons of Abe Miner purchased a business in Grover Beach; that family now operates seven stores in California's Central Coast region — more here).
Sporting goods were mainly under Roy's direction. As a serious deepsea fisherman and Dodger's fan, he's in his element. Tackle, guns, basketballs, etc. A large marlin — but whose catch? — was attached to a wall. Electrical, plumbing, paint and sundries were Steve's. Tools, garden supplies, housewares were Victor's.
There was a yard and shed: a pipe machine out back, and 60-gallon barrels of mineral spirits, kerosene, even gasoline. The shed held stock, hardware cloth and chicken wire, screen, paint sprayers. A basement housed other stock and sheet glass.
Regarding retail sale of oil, gasoline, mineral spirits, there's from Sherwood Anderson's —
In those days the Standard Oil Company did not deliver oil to the consumer in big wagons and motor trucks as it does now, but delivered instead to retail grocers, hardware stores and the like. Joe was the Standard Oil agent in Winesburg and in several towns up and down the railroad that went through Winesburg. He collected bills, booked orders, and did other things...
Upstairs, the safe, a wrapping table, an office where Roy counted the money and Rosemary kept the books every Monday. Further back, a room with an icebox and a table by a window looking out over the yard and parking lot. Old gun catalogues and hunting photos were up there, and Time Magazine.
Grandsons and daughters bagged nails, observed fathers engage customers, played in the shed, read Mister Oswald cartoons in , drew on yellow ledger interleaves. (An interview with Russ Johnson can be found at Hogan's Alley : online magazine of cartooon [sic] arts.)
The McVeys filled a stationwagon for the daily commute from Eagle Rock. Ruth in the back seat with her baskets containing the L.A. Times, clothes, food. One or another of the brothers drove, in daily rotation. Down to Riverside Drive and onto the Pasadena Fwy through downtown, then off at Washington Blvd for the drive all the way out to the store. The talk was about customers, salesmen, wantbook entries, yesterday's Sunday drive, articles in the paper. Exchanges were sometimes heated.
This grandson joined for the trip on Sundays, after 6:30 mass and breakfast. The smell of those stationwagons remains with me, 40 nearly 50 years later. There must have been something nice about the freeway drives, too. Clean, engineering-y, technical — something that's caught in Richard C. Miller's photographs of the Hollywood Freeway construction and onramps, prior to its opening. We'd take the Pasadena/Harbor Freeway down to the Washington Blvd. offramp, and Washington Blvd all the way out (at least on Sundays).
Several grandsons would work (or play) at that store — Tim and Steven Johnson, David, John, Jean. (We bagged a lot of nails, using a small rake, but necessarily using our hands, too.) Many more would later work in Temple City.
The store was just down the street from the MGM studios; one day Jayne Mansfield came in to buy a skillet. The store was also a start for Sunday afternoon drives to San Pedro, Long Beach, Terminal Island. Pat would drive us out to meet Victor at one.
There's something behind the levels and precision measuring instruments displayed behind Victor here. Victor had worked as a draftsman before entering the Army Corp of Engineers; worked under Bill Lear and with other smart people at Lear Avia.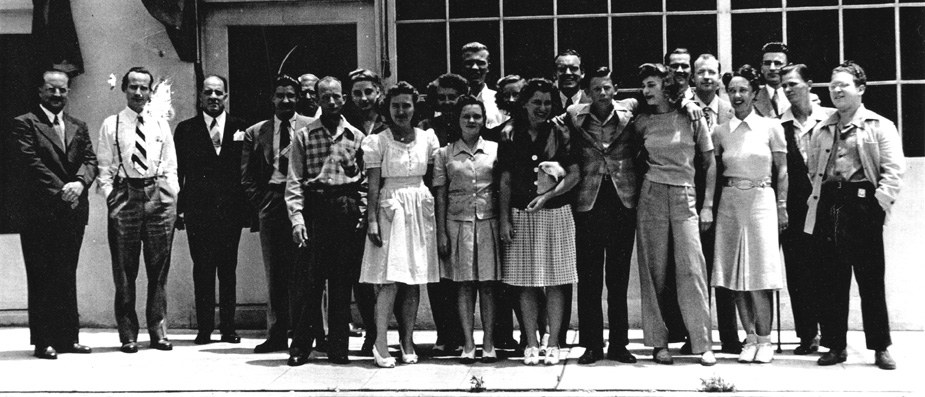 Victor is the tallest guy, center rear, here in front of Lear Avia's McCadden Place location, before a move to Highland (both in Hollywood), 1942. Victor got several deferments to work here, but finally wanted to join the army and do his bit. The fellow in back row (to Victor's own left) was the chief draftman (and a great guy), Leonard Caulfield. The fellow to the left in white shirt and suspenders is Harry A. Skaglund, chief engineer (and inventor associated with the ornamental design for D140521, a combined linear actuator and control unit for operating movable parts of an airplane or the like (1944)). Victor remembers the women as being stenographers; he had a crush on Margie Kaplan (the intense and beautiful woman furthest to the left in the image).
Victor made drawings of actuators — small, powerful and precision motors that controlled air surfaces on aircraft (cowling around engines, rudders, ailerons, etc.). I have a few ozalids of those drawings here, from one of which I've derived this —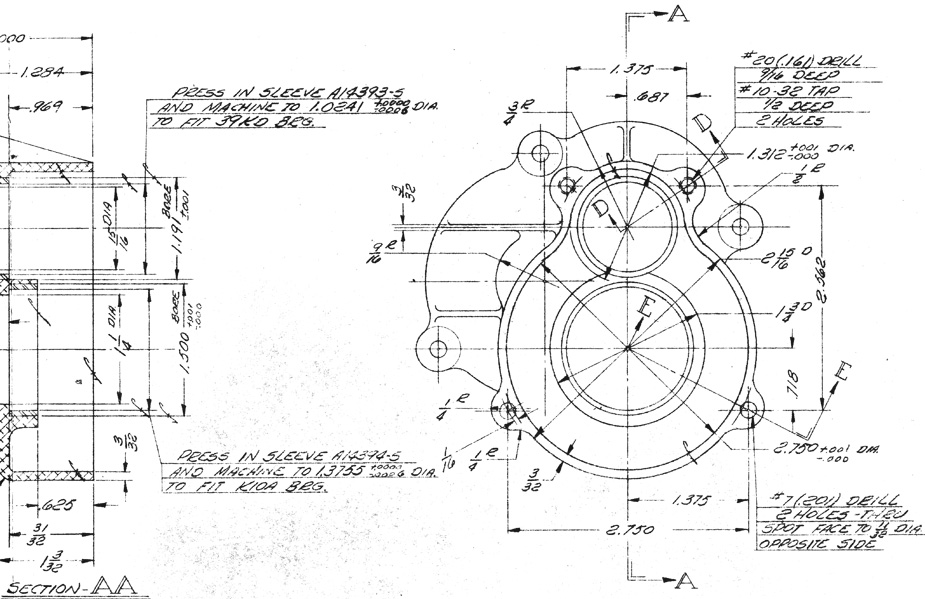 But I digress.
This part of the wall (with the levels and squares, braces and masonry tools) somehow represented the engineering that Victor had been part of. It was one of the store's microclimates, drier than most, calibrated, abstract; and it represents, to me, a road abandoned. Victor's drafting tools would pass to his son 20 years later — pencils, triangles, templates, stainless steel calipers (inside and outside), even his micrometer. His son now professes design, with its panoply of digital and physical tools akin to those he inherited from his father.