MCVEY HOME HARDWARE HOME
LITERATURE ART FICTION FILM MUSIC TELEVISION HISTORY LANGUAGE POETRY STORES TOOLS
Viña Delmar (1903-90)
on this page, just a lengthening, currently stalled, draft. Begins with Cynthia, but there's more to consider.

Viña Delmar (1903-90) was born Alvina Croter, the daughter of a couple active in vaudeville. She did not attend high school, but worked: as an usher and a typist. She published her first novel Bad Girl in April 1928. The success of her fiction, and a snappy writing style, earned her what would in effect be a one-way ticket to Hollywood, where she worked on some screenplays but also managed to continue writing fiction. Indeed, after The Awful Truth, she and her partner-in-crime husband got out of the scenario business entirely. Her Becker Scandal (1968) is autobiographical; her first novel is probably autobiographical, as well.
Several films were based on Delmar stories (and a novel, in the case of Bad Girl). Delmar also wrote the screenplay for Leo McCarey's The Awful Truth (1937), starring Irene Dunne and Cary Grant, and Leo McCarey's Make Way for Tomorrow (1937), which evidently impressed screenwriter Kogo Noda, who with Yasujiro Ozu wrote the script of Ozu's Tokyo Monogatari that developed a story along similar lines (1953).
Viña Delmar (1905-90) —


Cynthia

. Director: Robert Leonard. Released July 1947. Based on —


The Rich, Full Life

. Samuel French, 1946. Based on —


Time of Her Life

, in Woman's Home Companion (September 1944), pp22-23.
The film Cynthia originated from a play and earlier story, both by Viña Delmar, something of an it girl author in the late 1920s and early 1930s, who would write several novels (in two or even three chapters in her own life), some screenplays, and numerous stories. My focus here is on Cynthia and its sources: the film depicts a hardware store, the play refers to it, the story has none. But this stumbling into Viña Delmar's work has occasioned my reading several of her novels too. I will discuss the trajectory of (some of that work), as well as the reception of her fiction, as well.
There's more about the hardware store in the film than in the play, yet what's in the play is wittier. A good summary of the film is found in the American Film Institute Catalog (Feature Films, 1941-1950), which can be found here (the AFI Catalog is an excellent resource, by the way).
Below are discussions of film and play, as well as something about the work and life of Viña Delmar.
the film —
Louise and Larry are students at Wyandott College, ca 1928. Louise plays the piano well, Larry excels at baseball. Louise manages to attract his attention, and they go out for a romantic evening row on the lake. Louise tells Larry of her dream to continue her studies at the Vienna Conservatory; Larry responds with his own plan to do post-graduate work in medicine there. They'll have all summer to think of each other. Louise returns to Michigan, Larry to his hometown Napoleon, Illinois, where he works at J. M. Dingle's hardware store. They return to school in the Fall, and get married. In the winter (skiing on mountains), Louise tells Larry she's scared: he gets it, she's pregnant. He promises that a child won't get in the way of their dreams. The young couple move to Napoleon, where Larry resumes his job at the hardware store.
(A fictional Wyandotte (— with an e) College appears in several Kurt Vonnegut stories; see Susan Elizabeth Farrell, Critical Companion to Kurt Vonnegut (Infobase, 2008).)
A daughter Cynthia is born frail. Medical bills mount, and it becomes clear to Louise and Larry that earlier dreams must be put aside.
Fifteen years pass. Cynthia (played by Elizabeth Taylor) is still frail, under constant medical supervision of her uncle Fred, involving shots and medications and advice about what not to eat — no fruit, and especially apples. She misses school a lot, and every kind of social activity. She has a good singing voice, and Professor Rosenkrantz, who once taught her mother, encourages her to try out for a school operetta. (He speaks a lot about his life in Vienna and, indeed, Vienna becomes code for the dreams of youth in the film.) Illness prevents Cynthia from participating in the performance, but her singing has attracted the attention of Ricky Latham, a popular student (and Navy veteran, who has come back to complete his high school education).
Meanwhile, we've learned that the owner of the house Larry and Louise rent will be selling; they need to decide what to do. Larry asks Dingle for a raise, doesn't get it.
Ricky Latham is a very nice — and oddly young (and uncoarsened!), for a veteran — fellow. Lots of subterfuges are launched by Cynthia's cousin Fredonia, to prevent their getting together, but Larry invites Cynthia to the prom. Her mother allows Cynthia to go, even makes a dress; she deceives Larry about it. There's a terrible storm out, that night, and she has to work hard to get Larry out of the house (to a meeting), so that Cynthia can be picked up and taken to the prom, despite the storm.
Larry finds out, reacts angrily and chastizes his wife, exclaiming that she hates him for the sacrifices/compromises he's had to make. (He has been embittered by the course of his life.) He is late rising the next day. He arrives at the store to learn that Dingle is back from a trip to Florida, and is furious about Larry's tardiness. Reaching a boiling point, he kicks opens Dingle's office door, launches into a tirade, and quits. He arrives home where Louise has just made a downpayment on the house (with her own savings). A comedy of errors ensues. Louise is delighted by Larry's show of anger (and life); he says to begin packing, so they can go to Chicago. Cynthia refuses to leave, however, because she's going steady now. All is resolved when Mr. Dingle is spied outside, hurring to the house with hat in hand, to beg Larry to return to the store. The end.
Larry George Murphy) arrives, late for work.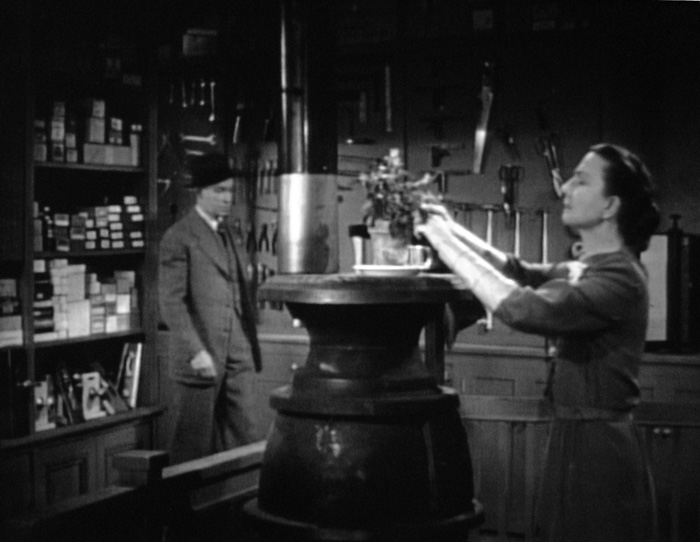 Larry enters. Notional/suggestive interior: unlikely assemblage of boxes, door handle displays at left, and motley and poorly arranged display of tools at back wall; bookkeeper (Eula Guy) attends to plant on the pot-bellied stove.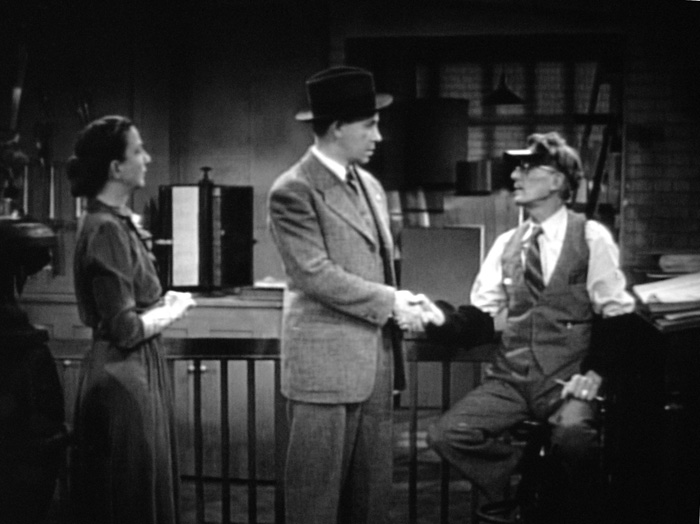 Larry greeted by clerk (Erville Anderson?), who congratulates him (for being elected head of the Booster Committee (not for his daughter's stunning appearance at the high school prom the night before). He learns that Dingle has just returned from Florida, and is furious at Larry's tardiness.
Looks more like a wholesale operation than a hardware store, but it's all notional: nothing presented for close perusal.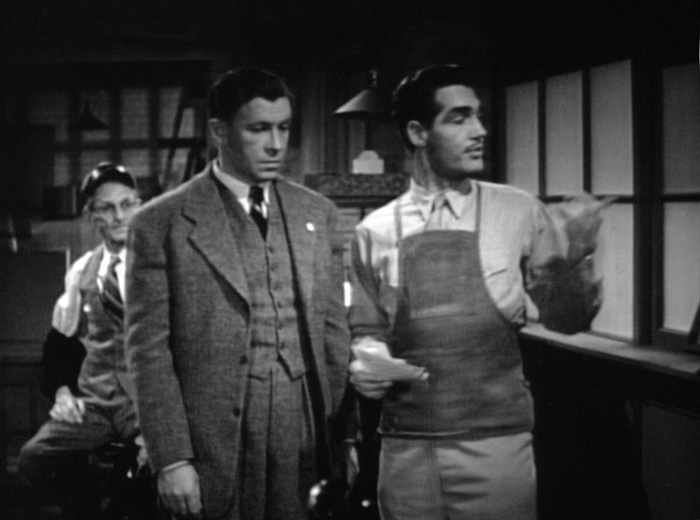 Another clerk (William Tannen?) fills Larry in on Dingle's rant, is pointing to one of several admonitory signs, this one reading A man who won't be late, can't be late.
Here, in an earlier scene, Larry approaches Dingle (Harlan Briggs) about a raise — $10 a month more would enable him to buy the house he's currently renting, but that the owner wishes to sell. Dingle puts him off, refuses to sign a loan note and suggest that Larry ask his brother (a pompous physician who's been caring for Cynthia). Dingle also mentions that he'll be needing to head to Florida for a couple of months, to bake some winter-related back trouble out of him.
I want to emphasize Dingle in his suit, at his desk with a couple of books (spine outward), Abe Lincoln bookends, desk lamp, ice water, plenty of medicines, prints of dogs and a large portrait (unidentifiable) of a military officer. Dingle is completely disengaged from the business that Larry manages on a day-to-day basis.
A glance through hardware trade magazines of the time often shows a suited business owner, striking a fatherly or avuncular attitude with a younger man, sometimes in a vest. The idea of success is exemplified in that suit, sitting at a desk, making executive decisions about sink stoppers, spatulas, rope.
Note too, that while the play may have been written prior to the war, no mention is made of the War in the film; perhaps Larry as sole breadearner would have had a deferrment?
Here, the hardware store is ambiguous or at least ambivalent, meaning-wise. It is weight and a place of quashed ambitions, but also a source of stablity. It is strange — judging from the AFI description, to see Dingle's invitation to return to the business, perhaps at a higher salary (?), as a positive outcome.
I'm reminded of Harry Boswell in Parke Sellard's The Boswell Gene (1982, 2000), who ends up in a boring hardware store job and loveless marriage. He gets a second (time-reversing) chance. I do not yet know if the hardware store is in the play script written by Delmar.
the play —
Very different from the film; no hardware store scene (or any other scene, outside the living room of Larry and Lou Fenwick's house). A new character is Mother Fenwick, Larry's mother. The writing — dialogue — is much snappier than in the film. The play was staged in New York in November 1945, produced by Gilbert Miller. A Lux Radio Theatre production was broadcast on June 23, 1947. The AFI description of the film discusses the business relationship between film and theatrical production (MGM acquired the rights to the play, by agreeing to pay a percentage of the play's gross, and also invested in that production).
We learn from Mother Fenwick, responding to a question from Carrie, that Larry went to Chicago once when the reguar buyer at the store was sick. When he came back he had Lou with him and je just said, This is my wife. That's all any of us know about it. Carrie (and perhaps others) feel that Lou is an outsider, and not perfectly acceptable.
Cynthia comes across as a bit more normal, and air-headed, than the Elizabeth Taylor figure — she's 15, after all.
Lou gets some nice lines. She and her daughter are looking at a magazine for dress ideas. One interesting one is dismissed as too sophisticated... A person would have to be divorced at least twice to feel comfortable in it. (p25)
When Larry returns from work, Cynthia shows him the magazine illustration of the dress her mother will make: Daddy, look at this. Isn't that gorgeous? He replies, I wouldn't know. I'm in the hardware business. (28)
And this — Lou: Well, Lawrence, what's doing at the store? Lawrence [reading]: Nothing. Lou: You people down there must be ready to tear out your hair by the handful. Lawrence: Why? Lou: For eighteen years now day after day nothing's happened. Lawrence: What can happen? People come in and buy things and go out again. And today was a particularly dull day. (30)
Lots of tension in this marriage. Larry is against Cynthia's going to the school dance. There are more important things, he's fond of saying. Toward the end of Act I Scene I, Lou says:
Time after time you've told me that fun was of no importance. You said there was a rich, full life to be found in marriage, in keeping house, in raising children. True values, you said. Read things of lasting worth. Well, I'm not sure you were wrong. But you view laughter and light-heartedness with suspicion. That's wrong, Lawrence. Laughter and and light-heartedness are swell things.. (33)
Lou repeats the expression true values later, when trying to dissuade Cynthia from going to the dance; she hears herself say it, and Cynthia responding exactly like her father would... and she relents.
the story —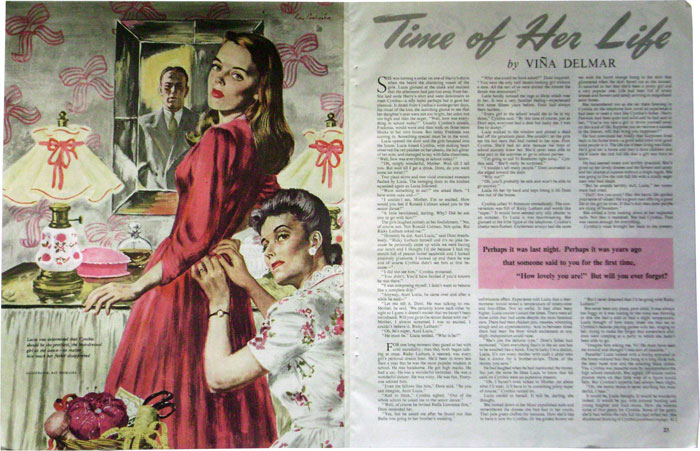 Time of Her Life appeared in Woman's Home Companion in September 1944, pages 22-23, 82, 84-87. I hope to discuss the story in terms of the advertising and other editorial content in this issue, which appeared during the war.
No hardware store here, no description of the husband's business other than that it involves the office. Names differ from the play and film: Larry is Harry, Lou is Lucia. Cynthia remains Cynthia, and delicate, however. Ricky Latham is no longer a war veteran, but simply a student — the most popular in the school... handsome... got high marks... had a car... wonderful swimmer... wonderful dancer... witty... fun... everyone adored him.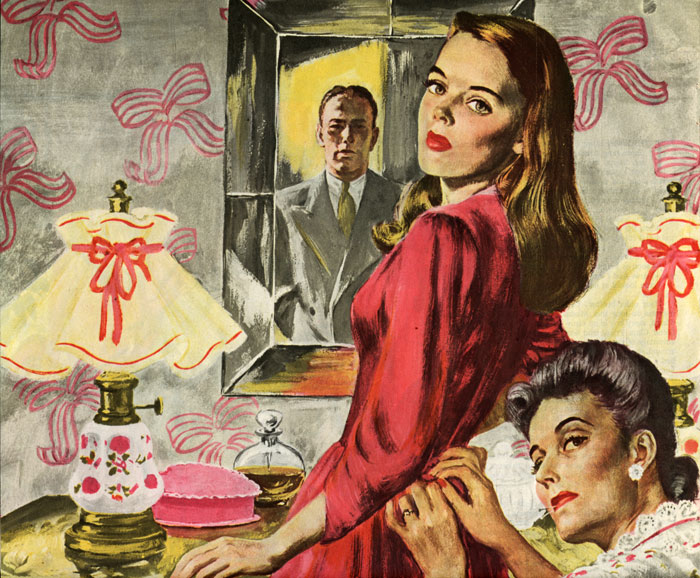 Lucia reflects back on her own youth. She'd had a life full of lovely dresses and flowers and candy arriving in magnificent boxes, as well as ambitions for the theater. And she'd permitted herself to be convinced by Harry that she was too nice a girl to throw yourself away on this kind of life, and that happiness lived back in his home town — a good solid town with solid people in it. The life she'd been living was futile. He'd give her a home and they'd have children and she'd know the rich full life that a girl was born to know.
The disappointment is pretty thick.
comments —
There's more detail in the play than in the story, and arguably more in the film than in the play. It may be that because a play runs on conversation, it needs detailing, opportunities for repartée and nuance. Harry/Larry hasn't much of a presence in the story, other than being unenlightened and working in the office. The focus is on the mother and daughter.
The Prohaska illustration gets at something that is softened in the play and film: Lou/Lucia's anger about her compromised life. See the if-looks-could=kill expressions in faces of mother and daughter, looking back at the father shown in the mirror. The almost obsessive red decorations, as if smeared in blood, the pin cushion, the handle of the scissors, all speak of a repressed violence.
Viña Delmar (1905-90) —
Viña Delmar was born Alvina Croter. Her early fiction earned her notoriety and a one-way ticket to Hollywood, where she worked on some screenplays while continuing to write fiction. Indeed, after The Awful Truth, she and her partner-in-crime husband got out of the scenario business entirely. I sense that her first novel, A Bad Girl (1928) is partly autobiographical. The Becker Scandal (1968) is also autobiographical.
Screenplays/adaptations —
(drawn from IMDb, New York State Literary Tree, etc. No claim to completeness here, just to suggest Delmar's productivity.
The Awful Truth (Leo McCarey, dir., 1937, from play by Arthur Richman)
Make Way for Tomorrow (Leo McCarey, dir., 1937)
Several films were based on her stories (see Delmar's filmography at INMDb). These include Sadie McKee (Clarence Brown, dir., 1934), with Joan Crawford; wikipedia gives a thorough plot summary, good viewer comments at INMDb. Based on these accounts, the film appears to depart markedly from Delmar's story, which appeared in Liberty Magazine in 1933.
Publications —
(drawn from LC Catalog and other sources; these leave out stories in magazines, and make no claim to completeness!)
Bad Girl (Harcourt, Brace, 1928; Avon #81, 1946; Avon #AT51, n.d. (1953?))
Kept Woman (Harcourt, Brace, 1929; Avon #121, 1947); same as The Other Woman (London: Philip Allan & Co., 1934)?
Loose Ladies (Harcourt, Brace, 1929; Avon #92, 1946); published in London (Philip Allan & Co., 1929, as Women Who Pass By
Women Live Too Long (Harcourt, Brace, 1932; Avon #145 (entitled The Restless Passion), 1947)
The Marriage Racket (Harcourt, Brace, 1933; Avon #107, 1946)
The End of the World (1934). A Perfect Love Story by the Author of Bad Girl. Reprint of a complete novel that was originally published in Cosmopolitan Magazine. 54 pages.
New Orleans Lady (Avon #209, 1949)
About Mrs. Leslie (Harcourt, Brace, 1950; Pocket Books #838, 1951 — Their trips to Florida were the kind every woman dreams of.)
The Rich, Full Life, a play in three acts (Samuel French, 1946)
The Love Trap (Avon original #189, 1949; originally titled Family on Yellow Rose Farm — will examine)
Strangers in Love (Dell Book 9, 1951?)

from back cover —
You can't look up my past in the Racing Form—you don't know a thing about me.

and —
A trip to California in the company of a total stranger was all it took for Kathleen to scatter the well-planned years of her life to the winds — abandon her intended at the church door — and marry a total stranger whom she insanely adored. It started an exciting life of luxury completely dependent on the fleet hoofs of a racehorse.

Story reprinted from The American Magazine (c1940)

The Marcaboth Women (Harcourt, Brace, 1951; Pocket Books #915 (entitled Ruby), 1952 — The story of a willful wife who used love as a weapon)

Published in Brazil in 1952 with the title As Senhoras Marcaboth. My copy, which bears marks of having been a library copy, is without its title page.

The Laughing Stranger (Harcourt, Brace, 1953; Avon, 1969)

New Jersey coast resort in the days immediately following the Civil War, the haunting story of a star-crossed family and the heartless rebel beauty who suddenly appears in their midst to change the course of all their lives. Mystery surrounds her, they opened the empty house for her, claiming to be Connie Coberley's wife.

Midsummer, a comedy in three acts (Samuel French, 1954); first performed NYC 1953 (earlier copyright 1947)
Beloved (Harcourt, Brace, 1956; Dell #F69, 1958; Dell 0532, 1965)

Published in German as Geliebtes Herz in 1960 (Diana Verlag Stuttgart-Konstanz); cover illustration by W. Neufeld

A historical novel concerning Judah P. Benjamin and his lovely and notoriously unfaithful wife Nathalie. Benjamin (1811-84) was a lawyer and politician, member of the cabinet of President Jefferson Davis; he moved to England after the Civil War, where he was a successful lawyer in London; he died in Paris. More at wikipedia where, incidentally, this novel is not listed in the section representation in fiction.

The Breeze from Camelot (Harcourt, Brace, 1959)
Warm Wednesday, a comedy in three acts (Samuel French, 1960, c1959)
The Big Family (Harcourt, Brace, 1961)
The Enchanted (Harcourt, Brace & World, 1965)
Grandmère (Harcourt, Brace & World, 1967; Dell #3021, 1968)
The Becker Scandal: A Time Remembered (Harcourt, Brace & World, 1968)
The Freeways (Harcourt, Brace Jovanovich, 1971)
A Time for Titans (Harcourt Brace Jovanovich, 1974)
McKeever (Harcourt, Brace Jovanovich, 1976)
The assertion on wikipedia that After the death of her husband [1956], Delmar ceased to be productive as a writer is unfounded.